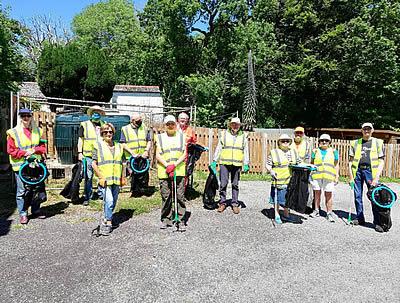 Budock Litter Pick 12 June 2021
Last Saturday, 12 June 2021, residents and Councillors undertook their first litter pick in and around the village since before the Covid pandemic. At the May Parish Council meeting it was agreed to organise an event to tie in with the annual Keep Britain Tidy Great British Spring Clean. The proposed litter pick was advertised around the village and at 2.00pm there was an overwhelming response of a dozen or so volunteers ready to go out and 'clean up' the area. They were split up into teams of two or three and proceeded to their chosen locations.
By 3.30pm all had met back at the starting place of Budock Village Hall with their hauls of all sorts of things that you may or may not have expected to find on the road and verges of a rural parish. There were six black bin bags containing dog poo bags, drinks cans and bottles,sweet wrappers, cardboard boxes and most surprisingly a car's suspension spring!
Everyone agreed that it had been a very worthwhile exercise and would be very happy to do this again, it having been decided that we would meet on every second Saturday monthly.
Not only did the environment benefit from this but it was good for people's mental wellbeing as several people had missed the feeling of companionship over the last year or more.
12th June 2021