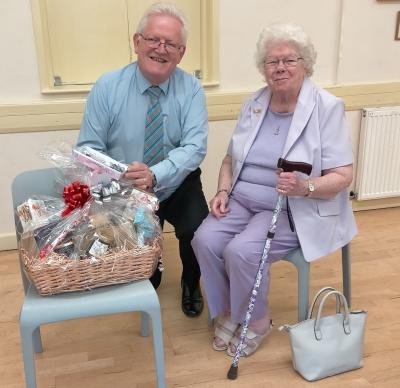 Budock Parish Council Community Award - Mrs Irene Clark
At the recent Budock Annual Parish Meeting a presentation of the Community Award was made to Mrs Irene Clark by the Chairman of the Parish Council. The award was a basket of Marks and Spencers products, all of which are known to be favourites of Irene. This award is made to someone in the Parish who it is felt has gone over and above the norm with their service to the community.
Irene has been involved in village affairs ever since she moved here in 1973. She has been a member of many local organisations over the years including being a Parish Councillor, one of the Budock Singers and Over 60's Chairman. She has certainly gone over and above in her efforts including being organiser of the Budock Luncheon Club, organising holidays and day trips including entry to the Royal Cornwall Show and the Council agreed unanimously that Irene should be the recipient.
A truly deserving person.