Welcome to the Budock Parish Council website
Co-Option of 1 Councillor
Litter Pick July 2022
Budock Litter Pick If you would like to help with the next one this will be, weather permitting, on Saturday 2nd July 2022. We meet at the Village Hall car park at 2pm, equipment will be provided. We look forward to seeing you there, why not bring a friend.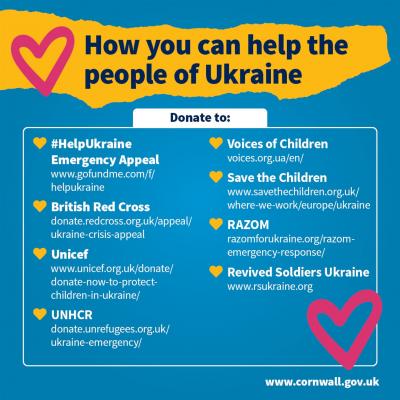 Ukraine Support
St Budock Parish Church
Churchyard Maintenance
Neighbourhood Development Plan Referendum Result
Councillor Peter Grounds and myself attended the Princess Pavilion last evening as Counting Observers. We are pleased to be able to announce that the result was a 'yes' vote by an overwhelming majority.
There were 373 votes cast of these 337 voted 'yes', 35 voted 'no' and there was 1 void paper. That making 90.34% for 'yes', 9.38% for 'no' and the remaining 0.28% being the void vote.
There were 225 votes cast in Budock, 37 votes cast in Treverva and 111 postal votes. The total turnout was 23.9%.
I feel that this was an excellent result and our thanks go out to all of the Parishioners and Council members who put in massive efforts to produce this very valuable document.
Well done to all of you.
Phil Hart.
Chairman, Budock Parish Council.
Declaration of Result of Poll NDP (pdf)
20th August 2021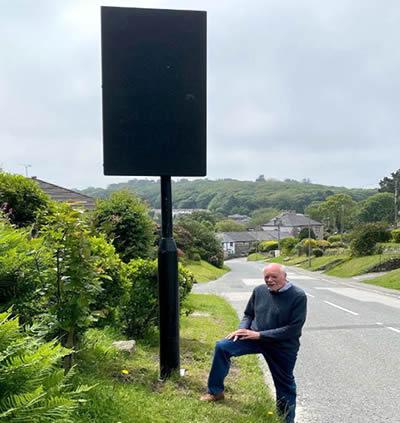 Budock Water Speed Warning Sign
Vehicle activated speed warning signs have finally gone up in Budock Water. Follow the link below to download more details.
20th July 2021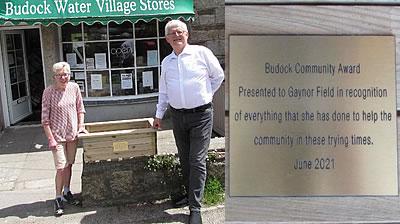 Budock Community Award - Gaynor Field
Budock Parish Council many years ago instituted a Community Award scheme whereby any parishioner who has made a significant contribution to the community during the past year would be recognised for the efforts. This year the very deserving person receiving the award was Gaynor Field the proprietor of Budock Water Village Stores. With help Gaynor not only runs the shop for six and a half days a week but she has been tirelessly delivering to those unable to leave their homes during these tr ...
23rd June 2021
Statement on Boundary Changes
31st March 2021
Coronavirus (COVID-19)
Information from Budock Parish Council Working within guidelines from HM Government, we hope you will find the suggestions below helpful at this very difficult time:Wash your hands thoroughly with water and soap, rinse and dry well.Catch any coughs or sneezes in a tissue, and dispose of the tissue safely.Be prepared to self-isolate if you experience any symptoms of infection e.g. high temperature, constant coughing and shortness of breath.If you experience any of these symptoms, do not go to you ...
15th April 2020